We all can use a little more horror in our lives. Today we just found out that in addition to the Blu-ray release of THE BURNING, another clasc slasher flick is becoming forever immortalized with the Blu-ray treatment this spring once again thanks to SCREAM FACTORY. Read on Bidites: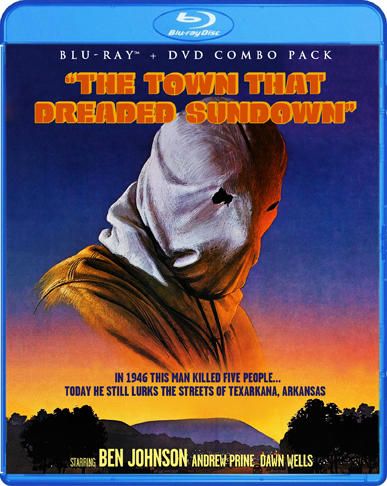 THE TOWN THAT DREADED SUNDOWN Blu-ray™ + DVD Combo Pack (including the debut of THE EVICTORS on DVD!)
Do not get caught in this town after sundown! "When two young lovers are savagely beaten and tortured on a back country road in Texarkana, local police are baffled. Three weeks later, two more people are slain in a milar setting and Deputy Norman Ramsey fears a pattern might be developing. Texas Ranger J.D. Morales (Ben Johnson, The Wild Bunch) is brought in to help. The two officers must find "the Phantom Killer" before he can kill again."
Also starring Andrew Prine (Grizzly) and Dawn Wells (Gilligan's Island), directed by Charles B. Pierce (The Legend Of Boggy Creek), and based on one of America's most baffling murder cases, this horrifying suspense thriller is a shocking experience you'll never forget.
Special Features for THE TOWN THAT DREADED SUNDOWN Blu-ray™ + DVD Combo Pack are currently in development.
Special Bonus Movie Presentation: Charles B. Pierce's The Evictors (DVD ONLY)
"A nice young couple move into an eerie house located in a small Louiana town, unaware of its violent history. Soon they find themselves tormented by the previous owners. Vic Morrow (Combat!, Humanoids From The Deep), Michael Parks (Django Unchained, Argo) and Jesca Harper (Suspiria, Phantom Of The Paradise) star in this chilling horror film."
The Town That Dreaded Sundown (Blu-ray and DVD): 1977/Color/86 minutes/R The Evictors (DVD Only): 1979/Color/92 minutes/PG Blu-ray: 1080p High-Definition Widescreen (2.35:1)/DTS-HD Master Audio Mono DVD: Anamorphic Widescreen/Dolby Digital Mono
Source: the 'Bid