The Incredible Shrinking Man is a clasc science fiction film, thrilling in its execution and giving audiences fright back in those days. It is in black and white, so it's an older movie
(made in 1957). Many long years later, the world is getting a remake, according to The Hollywood Reporter:
Richard Matheson. wrote the novel (The Shrinking Man) that inspired the movie. The still-working Matheson, 87, will co-author the screenplay with his son Richard Matheson, Jr.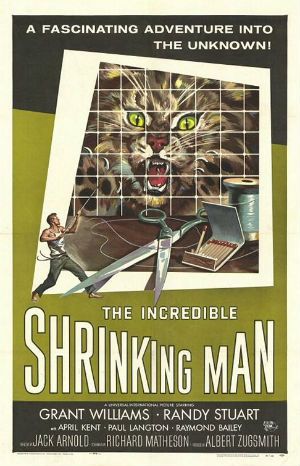 How will the story be updated? " The Mathesons will modernize the story to reflect advancements such as nanotechnology. Describing the new iteration as "an existential action movie," the elder Matheson says, "My original story was a metaphor for how man's place in the world was diminishing. That still holds today, where all these advancements that are going to save us will be our undoing."
Matheson is a great writer. In addition to the screenplay for the original film (one of his earliest screen credits), he worked on Roger Corman's adaptations of Edgar Allan Poe in the early 60s, wrote memorable episodes of The Twilight Zone (including "Nightmare at 20,000 Feet"), penned Steven Spielberg's TV movie Duel, and on and on. More recently, he furnished inspiration for Francis Lawrence's I Am Legend, Richard Kelly's The Box, and Shawn Levy's Real Steel.
But, but, but, MGM has been planning a flurry of "reboots," including Ben-Hur, Poltergeist, The Idolmaker, Mr. Mom, and, most notably, Robocop. Are they just throwing a lot of ideas at the wall and seeing which ones stick? Sure, that's what studios do, but the new MGM has not yet developed a track record for development. Robocop, with its unconfirmed rumors of troubles between director and studio, will no doubt provide inght as to where MGM may be heading".
Source- TwitchFilm.com